High Desert Music Festival
From CBBQAwiki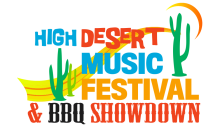 High Desert Music Festival & BBQ Showdown
Link to dedicated website http://www.highdesertmusicfestival.com/BBQCompetition.htm
Info
Date - April 20th, 2013
Place - High Desert Event Center, formally known as the Victorville Fairgrounds, in Victorville.
Prize $$ pool- $10,000 in cash and prizes
Team Entry form (PDF) - http://www.abelsplace.com/TOY/entry%20form%20fillable.pdf
Early Bird Entry fee is $274 until 3-15-13 after that $324 (for CBBQA members - non members pay $25 more) $20.00 Q-Fest coupons will be honored ON TOP of CBBQA and/or Early Bird Discounts.
Insurance is paid
PC is 12:00pm - 9:00pm both days and is a 50/50 split (meat is not provided). Tickets are selling for $2.00 per sample and you can vend anything you like with the exception of vendor food such as nachos, tacos, slush-es, hot dogs, water, soda, soft drinks, deserts, chili, salsa, kettle corn, pretzels, pastrami, gumbo, rice bowls, etc.
Electricity 20 amps each (Night lighting provided by grounds)
$$$
Breakdown:
GC- 1250.00
RGC- 750.00
Each Category -- Chicken, Pork Ribs, Pork, Brisket
1st place /500.00
2nd place /300.00
3rd place /250.00
4th place /150.00
5th place /100.00
6th place / 50.00
Entertainment
Saturday, April 20. 2013
MAIN STAGE
1:00-1:45 The Blue Henry's
2:00-3:00 Detour 91 and Chase Walker Band
3:15-4:15 Wumbloozo
4:30-5:30 Big Papa and the TCB
5:30-5:45 Awards Ceromony Presented by BBQ Galore and Far West Meats
6:00-7:15 Caravan of All Stars
7:30-8:45 Rod Piazza and Mighty Flyers

Sunday, April 21, 2013
MAIN STAGE
1:05-1:40 Manantial de Fuego MDF
1:55-3:00 Ray Brooks and the Blues Masters
3:00-3:50 Food Eating Contest
4:00-5:15 Five Tempting Men
5:30-5:35 Raffle for BBQ Grill
5:35-6:45 Tierra
6:55 -7:55 Lakeside
Teams
Burnin and Lootin- Jerry Aguilar
D'S Smokehouse- Dustin Graffious
Big Dev's BBQ- Deveraux Jackson
Woodhouse BBQ- John Anderson
Daddy O's SMOKIN' BBQ Patrick Sawyer
Pete's Piggy Barn- Peter Johnson
Rodeo Daddy's BBQ- Ray Wright
Mossy Rock BBQ- Vince Cook
Grill of His Dreams- John Ketron
Knock ur Sox Off- Ryan Moore
Big Poppa Smokers- Sterling Ball
Wild Willy's Smokin' Hot BBQ- William Wilson
Simply Marvelous BBQ- Stephan Franklin
All Sauced Up- Dave Malone
Mamma n'dem- Angela Washington
My Smokin Grillfriend- Jeff Pollock
Funtime BBQ- Benny Adauto
The Pit Crew BBQ- Steve Wilson
All Hogs go to Heaven- Steve Madaule
Patio Pitmasters- Lance Miller
Smoke Master- Amani Miller
Ridge Route BBQ- Curtis Trigueiro
T and J Backyard BBQ - Tom Moore
Bone Lick'in Good BBQ- Ron Muoruzzi
Left Coast Q's- Matt Dalton
Rube's Country Kitchen- Ruben Medina
Smokey Rubinson- Kory Miller
2nd to Last BBQ- Mike Seifert
Loot n Booty- Sterling
ZZYZX BBQ- Jason Miranda
Lady of Q- Sylvie Curry
Pete Firehouse BBQ- Peter Lent
Hog Heaven- Ira Pupko
CONFIRMED Judges
Steven Engbrecht
Vern Vallis
Jim Cuzzolina
Robles, Paul
Robles, Mrs. Paul
Gary Tackett
Steve Alvarez
Mary Ann Alverez
Gerald Cruces
Ed Benitez
Marcel Fortin
Oliver Christian
Pete Aragon
Sherry Aragon
Eric Engbrecht
Jeff Johnson
Dennis Andrew Smith
Charles Rosen
Tim McDonald
Diana McDonald
Dennis McDonald
Mike Sangtiago
Chris Davis
Kevin Davis
Barbara Weilage
David Bell
Scott Simpson
Dennis Edwards
Brian DeCoud
Joseph Miles
Karen Stouffer
Robert Stouffer
Yomi O. Famyuiwa
Robert Bass
Mary Ann Bass
Donna Fong
Rosie Karr
Ben Karr
James Hare
Dave Crawford
Jon Thomas
Chris McClure
John Bonnici
Chris Black
Jim "Jimmer" Dillman